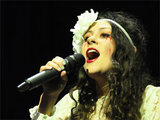 Eliza Doolittle
has claimed that artists no longer make money from selling albums.
The 22-year-old singer told the
Daily Star
that music fans are now turning to other services which allow them to stream tracks online.
Doolittle, who is the granddaughter of theatre school owner Sylvia Young, peaked at number three in the UK album chart with her self-titled debut collection last year.
"Most artists don't make money from records any more," she told the paper at the launch of the Sony Unlimited music service. "We have to get with the future and this service allows you to pretty much find and play anything you want to hear."
The 'Pack Up' star added: "The CD is over."
Doolittle's comments come just weeks after
Mercury Records revealed that it is to abolish
the production of physical CD singles. The label stated that "just over 1% of the overall singles market" came from sales of the physical format.
The singer-songwriter
recently hinted that she may record an EP
before releasing her second full album.
> UK singles chart for reform?