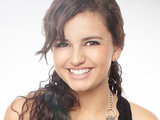 Rebecca Black
's viral hit 'Friday' has surpassed 100 million views on YouTube.
The internet sensation has managed to tally up over 109 million views for her widely criticised pop debut.
This comes following the news that the
cast of Glee are to perform the track during a future episode
.
'Friday' is
reportedly at the centre of a legal claim over royalties and copyright
, with Black's mother allegedly planning to sue the record's producers at Ark Music Factory.
The song has gained Black worldwide fame, as well as a number of celebrity fans including
Simon Cowell
and
Lady GaGa
.
The 13-year-old previously
confirmed that she is in the process of recording a follow-up single and her debut album
.
Watch the video for Rebecca Black's 'Friday' below: