0
Music News
Guillemots: 'New album dark and uplifting'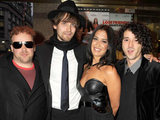 Guillemots
have revealed that their third studio album has a "darker" sound.
The album, titled
Walk The River
, was released on April 18 and has been widely commended for its similarity to the group's Mercury Prize-winning debut
Through The Windowpane
.
"This is definitely a darker record, but as it goes on it gets more uplifting," frontman Fyfe Dangerfield told the
Daily Star
.
"We kept imagining someone waking up in outer space having lost everything and wanting to get back home.
"A lot of the album is about letting the past go. Really it's quite an optimistic record, just heavier - it's the most intense record we've done."
Since the release of their second album
Red
in 2008, the music landscape has changed. When asked for his thoughts on chart-dominator Lady GaGa, Dangerfield responded: "The spectacle of Lady GaGa is fantastic - that's what pop is about.
"Guillemots will never be a full-on pop band because we don't have the front to put on that act which pop requires.
"We live in a time where people are afraid to be out­spoken. GaGa provides some interest in the world 'cos there's so much generic music out there. I like that she's different."
Guillemots have been confirmed for this year's
Glastonbury
,
Hop Harm
,
Dot to Dot
and
Camden Crawl
festivals.
Watch the music video for Guillemots' latest single 'The Basket' below: