0
Music News
Franz Ferdinand to release 'Covers EP'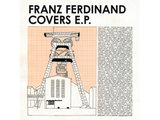 Franz Ferdinand
are to release their Record Store Day
Covers EP
.
The
'Ulysses'
band released a 12" vinyl of the material on Record Store Day last weekend, and now have unveiled plans to release the EP on CD and in a digital format through Domino Records.
Covers EP
will be available on May 2 and will include LCD Soundsystem's 'Live Alone' and Peaches' 'Turn It On' among other tracks.
Other Record Store Day releases came from
Foo Fighters
and
Radiohead
.
See the full tracklisting for Franz Ferdinand's
Covers EP
below:
1.
'Live Alone' (Debbie Harry)
2.
'Dream Again' (Stephin Merritt)
3.
'Live Alone' (LCD Soundsystem)
4.
'What She Came For' (ESG)
5.
'Turn It On' (Peaches)