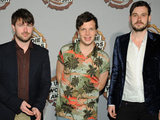 Friendly Fires
have revealed that they prefer straightforward lyrics to "clever" tracks that follow a certain construction.
The 'Live Those Days Tonight' group are currently preparing to release their second studio album
Pala
and admitted that when writing, they find it easier to channel emotions and dialogue familiar to themselves rather than deal with wider social issues.
"I find it quite difficult to write about the world around me," frontman Ed Macfarlane told
NME
.
"There's a concept to our new record
Pala
, but I think lyrically, individual songs are about things that are immediately close to me and quite universal.
"Love and rejection and happiness and sadness. Very open subjects rather than issues that are happening outside. I think other bands can do that better. My favourite lyrics come from house music and tend to be very direct, just about relationships."
Macfarlane previously
described the band's new album as more "poppy" than their first record
and asserted that they prefer to listen to "fun" music rather than "the safe, tried and tested formula of bass, guitar and drums".
"I think it's a risky process, writing the kind of music we write. You're kind of always treading a fine line, that boundary between taste and going horribly wrong."
Friendly Fires will release
Pala
on May 16 in the UK and May 24 in the US.
> Friendly Fires 'prefer Justin Timberlake to Morrissey'
Listen to Friendly Fires' new album's lead single 'Live Those Days Tonight' below: