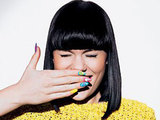 Jessie J
has admitted that she is wary about what she includes in her songs' lyrics.
The
'Nobody's Perfect'
singer said that she is aware her material will be attached to her forever, but insisted that she needs to be outspoken and provocative while she is still young.
"I'm aware of what I'm singing about all the time, which is why I was so nervous about 'Do It Like A Dude', that people were ­going to judge me for it, because it has ­elements of the dollar about it," she told the
Daily Star
.
"Don't get me wrong, I love bashment ­music like 'Pass Out', but eventually I thought: 'If I can't do a song like this now, when can I?' I should have fun too.
"Can you imagine doing a song like that when I'm 40? Oh God. I knew it would shake up some controversy."
The 23-year-old recently told
Digital Spy
that she
intends to release her track 'Who You Are' as a single in the future
.
> Jessie J: 'Who You Are about accepting sexuality'
Watch the video for Jessie J's latest single 'Nobody's Perfect' below: