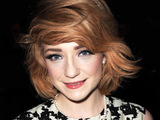 Nicola Roberts
has revealed that she wants to write more for the next Girls Aloud album.
The 'Call The Shots' group are currently on hiatus while each member pursues solo projects, with Roberts
preparing to release her debut solo single 'Beat Of My Drum' on June 6.
Roberts told
RWD
magazine: "[I would] like to be much more involved in the writing. I was lucky that Brian [Xenomania] used to use some of my stuff, but I think I would like to be heavily involved."
She added: "Will there be another Girls Aloud album? I can't really say anything, but it's our tenth anniversary next year so I would absolutely hope there was something from us."
Reports previously
suggested that the girls are planning a 2012 world tour
, while rumours also tipped them as contenders to
perform at the London Olympics opening ceremony.
> Nicola Roberts: 'Album has given me confidence'
Listen to a teaser of Nicola Roberts' new single 'Beat Of My Drum' below: