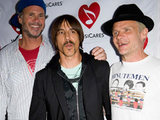 The
Red Hot Chili Peppers
have confirmed the title of their tenth studio album.
The new disc will be called
I'm With You
and serve as the follow-up to their 2006 chart-topping record
Stadium Arcadium
.
Red Hot Chili Peppers frontman Anthony Kiedis previously
revealed that the working title for the record had been 'Dr Johnny Skinz's Disproportionately Rambunctious Polar Express Machine-head'
and was inspired by an acid trip one of his friends once experienced.
The California four-piece will precede the album's release with their new single 'The Adventures Of Raindance Maggie' on July 18.
Legendary producer Rick Rubin has been working on
I'm With You
and it is
expected that the album will be released towards the end of August.
Watch the video for the Red Hot Chili Peppers' classic single 'Californication' below: