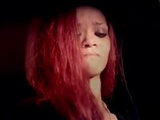 The director behind
Rihanna
's controversial new video for 'Man Down' has said that he stands behind the final product.
The video, which sees Rihanna shooting a man who abused her,
sparked criticism from the Parents Television Council for 'accepting murder'
, though Rihanna later
described the premise behind 'Man Down' as "art with a message"
.
Director Anthony Mandler told
The Hollywood Reporter
: "It's doing exactly what Rihanna and I hoped it would do, which is shine a light on the very dark subject matter.
"The fact that there's an argument to ban this because this will make girls retaliate from abuse with murder is skipping over the point. We obviously have a huge issue to deal with as a country."
Gabrielle Union recently
praised Rihanna for doing a "great job" with 'Man Down' and "getting the world talking about rape"
.
Watch Rihanna's video for 'Man Down' below: