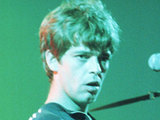 The La's frontman
Lee Mavers
made his return to live music last night with a surprise gig in Manchester.
Mavers was accompanied by Gary Murphy, formerly of The Bandits, on bass at the show at The Deaf Institute in support of Hyde & Beast,
NME
reports.
The band had been billed as Lee Rude & The Velcro Underpants, leading to much fan speculation that Mavers would perform.
Mavers reunited with John Power to reform The La's in 2005. He has since played sporadic live shows, most
recently appearing at a Pete Doherty gig
in 2009.
Around that time, it was claimed that Mavers would again
revive The La's with a new lineup
for a full tour and second album.
A new website has recently been set up for the band, in addition to official Facebook and Twitter accounts.
The full Lee Mavers setlist was as follows:
'Son Of A Gun'
'Freedom Song'
'Clean Prophet'
'Come In Come On'
'Way Out'
'Doledrum'
'Timeless Melody'
'Feelin'
'There She Goes'
'I.O.U.'
'Knock Me Down'
'I Can't Sleep'
'Liberty Ship'
'Callin' All'
'Lookin' Glass'
Watch The La's play 'There She Goes' live at Glastonbury 2005 below: