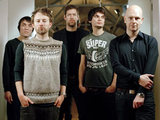 Radiohead
will perform a surprise gig at Glastonbury festival later today.
The
King of Limbs
band, who
unveiled new track 'Staircase' earlier this week
, have been confirmed to appear at the music event following
Emily Eavis's teaser that there will be a surprise performance from an act good enough to headline
.
Radiohead will play the Park Stage at 8pm this evening, according to the band's spokesperson, reports
NME
.
Radiohead have played Glastonbury four times before. They made their first appearance in 1994, leading on to headline slots at the event in both 1997 and 2003.
Last year, band members Thom Yorke and Jonny Greenwood played a short set on the Park Stage, causing a mass surge of festival-goers to the area.
Headline acts for this weekend's Glastonbury festival include U2, Coldplay and Beyoncé.
> Ms Dynamite draws huge crowds at Glastonbury
> Ke$ha 'bringing cross-dressing dancers to Glastonbury'
> Beyoncé rehearsing ten hours a day for GlastonburyDigital Spy
is bringing you news from Glastonbury festival 2011 all weekend -
view our guide to the festival
and
click here to stay abreast of our full coverage
.
Watch Radiohead perform 'Paranoid Android' at Glastonbury in 2003 below: