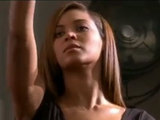 Beyoncé's new behind-the-scenes special
Year of 4
has debuted online.
The programme, which initially aired on MTV on Thursday in the US, was posted to the
'Run The World (Girls)'
singer's website following the initial broadcast.
Year of 4
includes footage of Beyoncé during her
year-long hiatus prior to recording the album
as she travels and spends time with family and friends.
It also features clips of the singer discussing
why she severed her professional relationship with her father Matthew
, her former manager, in addition to
preparation for the 'Run The World' video
, sequencing
4
and an album playback at Columbia Records.
> Beyoncé's 4 on course for US album number one
> Beyoncé record label not "unhappy" with album 4
"I'm always happy when I'm surrounded by water. I think I'm a mermaid or I was a mermaid. The ocean makes me feel really small, and it puts my whole life into perspective," Beyoncé says in
Year of 4
's opening sequence.
"It humbles you and it grounds you and it makes me feel almost like I've been baptized. Am I the same Beyoncé? Absolutely not."
The documentary will receive its UK television premiere on Friday, July 1 at 9pm on MTV UK.
> Beyoncé: 'New album 4 inspired by Adele, Prince'
Watch Beyoncé's
Year of 4
in its entirety below: