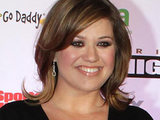 A new
Kelly Clarkson
song titled 'Let Me Down' has leaked in full, months ahead of her new album release.
The 29-year-old singer is
expected to unveil a new single in July
, but it is not known whether 'Let Me Down' will be the track in question.
The song is a pop-rock anthem with Clarkson singing about a frustrating relationship of mistrust and unreliability. Lyrics include: "I've been dying to open my eyes/ See you try instead of always leaving me out to dry."
Clarkson's record label RCA has declined to comment on whether the track will be used as the lead single for her fifth studio album, but
The Prophet Blog
reports that Connecticut's i983 radio station has been playing the song claiming it to be the
American Idol
winner's new release.
The singer-songwriter has faced 12 months of delays with her new record.
Songwriting collaborator Claude Kelly recently explained that label bosses want 'the arena to be clear' for Clarkson's return
.
Listen to 'Let Me Down' below: