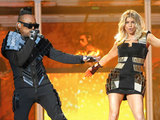 The
Black Eyed Peas
will go on hiatus following the culmination of their current tour, it has been confirmed.
Rapper will.i.am tweeted the news, stating that the band will take a break starting just after they play their final show in Madrid on July 14.
"The Bep will take a break after
The Beginning
… just like we did from [band albums]
Monkey Business
to
The E.N.D
… but it doesn't mean we stop creating," wrote will.i.am.
The rapper
was recently evacuated from his London hotel after a violent blaze ripped through the building
.
Black Eyed Peas member Fergie
confessed last month that she finds it difficult to stick to a diet
even though she has healthy meals delivered.
Fergie's husband Josh Duhamel
said in April that he was excited for his wife to be taking a break
, stating that the two plan to work out during their time together.
Watch the video for the Black Eyes Peas' 'Don't Stop the Party' below: