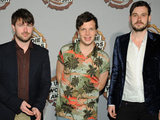 Friendly Fires
played to a soaked crowd at T in the Park today.
The St Albans trio's frontman Ed McFarlane, sporting a Hawaiian shirt, headed straight out to the drenched audience, however, before playing a storming set on the NME stage.
The band performed recent single 'Live Those Days Tonight', as well as 'Skeleton Boy' and set closer 'Kiss Of Life'.
Friendly Fires discussed the possibility of being nominated for this year's Mercury Prize for second album
Pala
before the gig.
Guitarist Edd Gibson told
NME
: "I don't know - we're pretty good at getting nominated for things. There's been a spate of decent music out though.
"Adele, she's done something incredible herself. PJ Harvey, Metronomy. There's been some really good music this year so far."
Gibson added that it is "amazing" that bookmakers William Hill currently has the band at odds of 14/1 to win the award.
Friendly Fires
embark on an 11-date UK tour in November
.
Friendly Fires' full T in the Park setlist was as follows:
'Lovesick'
'Jump In The Pool'
'Blue Cassette'
'True Love'
'On Board'
'Show Me Lights'
'Skeleton Boy'
'Live Those Days Tonight'
'Hurting'
'Pull Me Back To Earth'
'Hawaiian Air'
'Paris'
'Kiss Of Life'
Watch Friendly Fires performing 'Hawaiian Air' at Glastonbury - complete with
hula dancers
- below: