10
Music News
Pixie Lott unveils new single 'All About Tonight'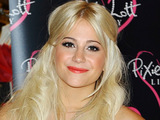 Pixie Lott
has premiered her new single 'All About Tonight'.
The 20-year-old singer will release the song on September 4. It will serve as the trailer track for Lott's currently-untitled second studio album.
'All About Tonight' is an upbeat song that mixes club beats and synths. Lyrics include: "Yeah the night is alive, you can feel the heartbeat/ Let's just go with the flow, we've been working all week/ Tomorrow doesn't matter when you're moving your feet/ It's all about tonight."
Lott recorded the music video for the single in Los Angeles at the end of last month and has since
released teasers online to promote the clip
.
The 'Cry Me Out' singer has told
Digital Spy
that she has
worked with big-name artists and producers for her new album
, which is expected later this year.
Listen to 'All About Tonight' below: