1
Music News
Jay-Z, Kanye West reveal 'Watch The Throne' deluxe tracklisting
Jay-Z
and Kanye West have revealed the tracklisting for the deluxe version of their collaborative album
Watch The Throne
.
The hip-hop pair have been working on the 16-track record over the last year. They
set up a recording studio in the Mercer hotel in New York
to record parts of it.
The tracklisting includes the Beyoncé-starring 'Lift Off', but also confirms that Bruno Mars will not feature on the song as previously thought.
Odd Future's Frank Ocean appears on opening track 'No Church in The Wild'. Mr Hudson - who has previously worked with each of the rappers - features on the standard edition's closing song 'Why I Love You'.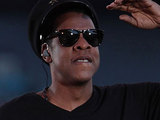 Jay-Z last week previewed the album to journalists in New York, where the 41-year-old musician
revealed that the final album is the third iteration
.
Watch The Throne
is expected to be released on August 2.
> Jay-Z, Kanye West unveil 'Watch The Throne' album artwork
The deluxe edition
Watch The Throne
tracklisting is as follows:
1.
'No Church in The Wild' feat. Frank Ocean
2.
'Lift Off' feat. Beyoncé
3.
'N*ggas in Paris'
4.
'Otis' feat. Otis Redding
5.
'Gotta Have It'
6.
'New Day'
7.
'Prime Time'
8.
'Who Gon Stop Me'
9.
'Murder to Excellence'
10.
'Welcome to The Jungle'
11.
'Sweet Baby Jesus' feat. Frank Ocean
12.
'Why I Love You' feat. Mr Hudson
Bonus Tracks13.
'Illest Motherf**ker Alive'
14.
'H*A*M*'
15.
'That's My B*tch'
16.
'The Joy' feat. Curtis Mayfield