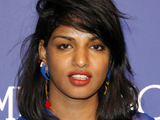 MIA
has released a new track online as a tribute to Amy Winehouse.
The singer posted the song, titled '27', to her Soundcloud over the weekend in memory of Winehouse,
who passed away at the age of 27 at her Camden home on Saturday
.
MIA left a note with the track, saying that it is "dedicated to all my friends that died at 27″.
She added: "i recorded this song B4 vickileekx and never put it out. its a unfinished demo. R.I.P A.M.Y."
Lyrics in the song include: "Said your all mouth and no brains/ All rock stars go to heaven/ You said you'll be dead at 27/ When we drunk in a English tavern."
The 36-year-old is just one of a number of stars that has paid tribute to Winehouse. Annie Lennox
described the late singer as having "a massive gift"
, while producer and Winehouse collaborator Mark Ronson
branded her his "musical soulmate"
.
A report has suggested that
a third studio album from Winehouse could see a posthumous release
, with the decision to be made by the singer's parents Mitch and Janis.
> Amy Winehouse family: 'We've been left bereft'
> Amy Winehouse surges up UK singles, album charts
> Lady GaGa pays tribute to Amy Winehouse: 'She changed pop music forever'
> Amy Winehouse 1983-2011: A life in pictures
Listen to MIA's tribute to Amy Winehouse '27' below: