6
Music News
Amy Winehouse, Lady GaGa on Tony Bennett's 'Duets II' tracklisting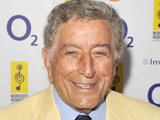 Tony Bennett
has confirmed the tracklisting for his new album.
The jazz singer will release his new studio LP
Duets II
on September 19 in the UK and September 20 in the US.
The 17-track record features collaborations with stars including Lady GaGa, Mariah Carey, Aretha Franklin and Sheryl Crow.
It will also feature a duet with the late Amy Winehouse titled 'Body And Soul', which was recorded at Abbey Road Studios earlier this year.
Bennett and GaGa will perform a cover of the Richard Rodgers song 'The Lady Is A Tramp', which was alluded to by the 'Judas' singer on Twitter earlier this week.
GaGa posted: "Hangin' out with my buddy Tony having a whiskey. Feel like such a tramp."
Duets II
will be available to pre-order on digital outlets this week in celebration of Bennett's 85th birthday on August 3.
> Tony Bennett: 'Amy Winehouse was like the great jazz singers'
The tracklisting for Tony Bennett's
Duets II
is as follows:
1.
'Stranger In Paradise' feat. Andrea Bocelli
2.
'I Wanna Be Around' feat. Michael Bublé
3.
'When Do The Bells Ring For Me' feat. Mariah Carey
4.
'Watch What Happens' feat. Natalie Cole
5.
'The Girl I Love' feat. Sheryl Crow
6.
'How Do You Keep The Music Playing' feat. Aretha Franklin
7.
'This Is All I Ask' feat. Josh Groban
8.
'The Way You Look Tonight' feat. Faith Hill
9.
'Speak Tonight' feat. Norah Jones
10.
'The Lady Is A Tramp' feat. Lady GaGa
11.
'Blue Velvet' feat. KD Lang
12.
'One For My Baby (And One More For The Road)' feat. John Mayer
13.
'On The Sunny Side Of The Street' feat. Willie Nelson
14.
'Who Can I Turn To' feat. Queen Latifah
15.
'Yesterday I Heard The Rain' feat. Alejandro Sanz
16.
'It Had To Be You' feat. Carrie Underwood
17.
'Body And Soul' feat. Amy Winehouse
Watch Tony Bennett perform 'My Favourite Things' live below: