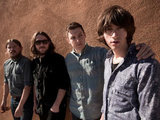 The
Arctic Monkeys
performed with Miles Kane as they closed the opening night of V Festival.
The band, who made their debut at this year's event, were joined on stage by the Last Shadow Puppets singer to help close their 90-minute set.
The group played to a packed-out crowd at Hylands Park in Chelmsford, arriving on stage to Hot Chocolate's 1975 classic 'You Sexy Thing', before opening with 'Library Pictures' from their latest album
Suck It and See
.
Frontman Alex Turner told the crowd: "We're Arctic Monkeys and we've brought you some rock and roll music".
The four-piece played a string of tracks from their latest album - which topped the charts in June this year - including
'Don't Sit Down 'Cause I've Moved Your Chair'
and latest single 'The Hellcat Spangled Shalalala'.
The set included 'Brianstorm' and fan favourite 'This House is a Circus' along with seven other songs from their second LP
Favourite Worst Nightmare
, as well as five tracks from their debut,
Whatever People Say I Am, That's What I'm Not
.
Turner then announced: "We'd like to bring a blue mod onstage to help us with this last one. Here he is, the Wirral riddler, Mr Miles Kane," and closed the set with '505'.
The band recently admitted that they
are fans of "cheesy pop" singer Kylie Minogue
.
The full setlist appears below:
'Library Pictures'
'Brianstorm'
'This House Is A Circus'
'Still Take You Home'
'Don't Sit Down 'Cause I've Moved Your Chair'
'Pretty Visitors'
'She's Thunderstorms'
'Teddy Picker'
'Crying Lightning'
'Brick By Brick'
'The Hellcat Spangled Sha-La-La-La'
'The View From The Afternoon'
'I Bet You Look Good On The Dancefloor'
'Suck It And See'
'If You Were There, Beware'
'Do Me A Favour'
'When The Sun Goes Down'
'Mardy Bum'
'Fluorescent Adolescent'
'505'
Digital Spy is bringing you news from V Festival 2011 all weekend.
Click here to read our full coverage of the music event.
Watch the video for 'Don't Sit Down 'Cause I've Moved Your Chair' below: