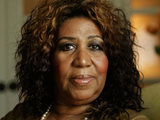 The Rock and Roll Hall of Fame will honour
Aretha Franklin
this year as part of its American Music Masters programme.
Franklin will be the subject of a week-long tribute, which kicks off on October 31 in Cleveland with a symposium on her life and work.
The celebration will conclude on November 5 with an all-star tribute concert featuring acts to be named in the coming weeks.
Franklin expressed gratitude for the American Music Masters salute, saying: "I'm thrilled and delighted to be honoured. I'm really looking forward to being there."
Rock pioneer Jerry Lee Lewis, Janis Joplin and guitarist Les Paul have been honoured in previous years as part of the American Music Masters series.
The Rock and Roll Hall of Fame launched the American Music Masters programme in co-operation with Case Western Reserve University to improve music education for children.
Franklin was inducted into the Rock and Roll Hall of Fame in 1987.
Last week, it was announced that
Franklin will be given the Founder's Award by the Thelonious Monk Institute of Jazz
at a special concert next month.
> Aretha Franklin, Diana Ross songwriter Nickolas Ashford dies, aged 70
> Aretha Franklin's publishing company sued by songwriter
Watch Aretha Franklin perform 'I Say A Little Prayer' below: