Pendulum
have headlined Friday night at Bestival to the largest crowd of the weekend so far.
The six-piece, who were second to Hot Chip on the Main Stage bill in 2008, presented a set which included their biggest hits such as 'Witchcraft' and 'Propane Nightmares'.
Rob Swire announced during the set that the performance would be the band's last UK show "for the foreseeable future".
Pendulum's industrial-style stage set featured a large video wall and platform displaying footage of balloons, spiders, old buildings and complex geometric shapes. The band also used smoke machines, lasers and multi-coloured flame throwers as part of their sound and light show.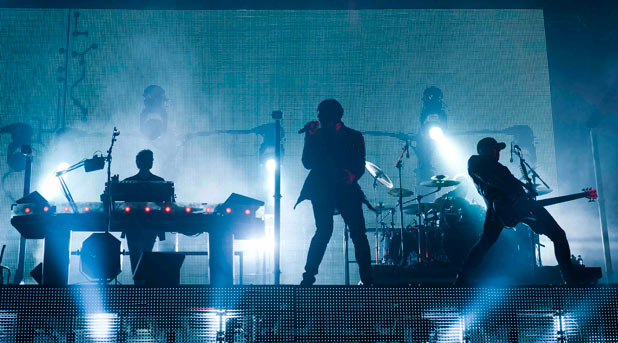 The group's MC Ben Mount opened the show by telling the audience: "Tonight is what you make it - the more you give us, the more we're gonna give you."
He also repeatedly told the crowd that there were "no excuses" for them not to enjoy themselves because it was the first night of the festival, adding: "We're glad we've got you fresh."
Mount, who spent a large proportion of the set sprinting from end to end of the stage in order to encourage the crowd, also ordered the audience to form a circle pit at the close of the band's main set.
Tomorrow's bill at Bestival - curated by BBC Radio 1's Rob da Bank - includes Katy B, Primal Scream, Mercury Prize winner PJ Harvey and Main Stage headliners The Cure.
> Bestival 2011: Patrick Wolf thanks fans for "amazing" year
> Bestival 2011: Public Enemy set up Twitter photo competition
> Bestival 2011: Brian Wilson plays greatest hits on Main Stage
Watch the video for Pendulum's 'Witchcraft' below: