1
Music News
Red Hot Chili Peppers' Chad Smith: 'New guitarist Josh Klinghoffer re-energised us'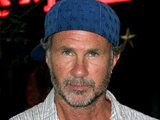 Chad Smith
has insisted that the Red Hot Chili Peppers have got on well since new guitarist Josh Klinghoffer joined the group.
The Chili Peppers have had numerous lead guitarists since they formed in 1983, with John Frusciante, Dave Navarro and Hillel Slovak playing for the band at various times.
Drummer Smith said that he is confident Klinghoffer will bring stability to the Red Hot Chili Peppers.
"The guitar player spot in our group is... We've had a few. We're like Spinal Tap," Smith joked to
Rolling Stone
.
Smith added: "Things are really good with the band right now, and we just got our feet wet with these shows. It's really a new band. Me, Flea and Anthony have been obviously playing together for a while - but this is exciting and it re-energised everybody."
The Red Hot Chili Peppers' latest album
I'm with You reached the top spot on the UK album chart
and hit the top five in the US.
Smith previously joked that
people often confuse him for Anchorman actor Will Ferrell
.
> Red Hot Chili Peppers: 'Josh Klinghoffer has changed our sound'
Watch the music video for the Red Hot Chili Peppers' hit 'The Adventures of Rain Dance Maggie' below: