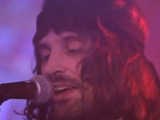 Kasabian
guitarist Serge Pizzorno has revealed that he quit drugs for his son.
The songwriter previously suggested that he stopped abusing the illegal substances to concentrate on working on new album
Velociraptor!
and retain the group's legacy.
However, Pizzorno has now asserted that he quit taking drugs after he became a father.
He told
NME
: "Those comments were taken out of context. I always write from home and I've just had a baby. I'm not going to be doing drugs around a little boy.
"There's more at stake than music. When you're getting up to do the milk in the morning, you don't want to be out of your mind, do you?"
Pizzorno went on to say that he has thought about Kasabian's legacy with each album's release.
He added: "It was after the second album (
Empire
), when we were starting
West Ryder [Pauper Lunatic Asylum]
, that we thought about it seriously.
"You know, what we were doing was amazing, and it worked and we sold records, people liked it, but do you just f**k it all up, or get to work and do something that makes people go, 'Wow'? That's when people started to get us properly, and it was the most beautiful explosion ever."
Kasabian's new album
Velociraptor!
is out now.
> Kasabian want to be as big as Adele with new album 'Velociraptor!'
> Kasabian add three more dates to UK arena tour
Watch Serge Pizzorno discuss
Velociraptor!
below: