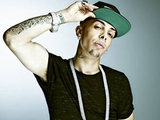 Dappy
has confessed that he is missing his fellow N-Dubz band members while touring solo.
The rapper admitted that he has felt sad when performing his new single
'No Regrets'
without Fazer and Tulisa on stage with him.
Dappy told the
Daily Star
: "When I'm on stage, I look around and all I can see is my gospel backing singers, and I just think, 'Where's Tulisa? Where's Fazer?' That makes me sad.
"When N-Dubz played our last show at The O2 in London, we collapsed into each other's arms at the end as we knew it'd be our last show for two years."
Speaking about the impending release of his debut album
No Regrets
, the 24-year-old said he is hoping to prove critics wrong with his new material.
He explained: "People have this image of me from N-Dubz that we're just for the youngsters, but now I can show I'm not just this tw*t who was a naughty boy growing up – I'm a great musician with a unique sound."
Dappy is
on course to top the UK singles chart
with his debut single 'No Regrets' on Sunday.
> Dappy confirms N-Dubz split plans, teases Rihanna collaboration
Watch the music video for Dappy's new single 'No Regrets' below: