19
Music News
Rihanna's 'We Found Love' storms Billboard chart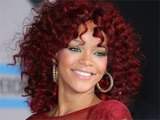 Rihanna
has stormed the Billboard Hot 100 with her new single 'We Found Love'.
The Calvin Harris-produced track, which was released last week, debuts at number 16 on the tally after shifting 117,000 downloads.
The entry is Rihanna's second-highest debut on the chart, after her Eminem duet 'Love The Way You Lie' started at number two last July.
Elsewhere, Maroon 5 and Christina Aguilera extend their lead at number one with 'Moves Like Jagger' after selling 233,000 copies - its highest sales week to date.
Meanwhile, Adele's 'Someone Like You' remains at two, Foster the People's 'Pumped Up Kicks' holds firm at three, and LMFAO vault from 25 to ten with 'Sexy and I Know It'.
Further down the chart, three
Glee
songs enter the tally. The highest is their rendition of Tom Jones's 'It's Not Unusual', which lands at 65, followed by
Hairspray
number 'You Can't Stop The Beat' at 67 and The Go-Go's 'We Got The Beat' at 83.
The Top 10 singles in full (click where possible for our reviews):
1.
(1)
Maroon 5 ft. Christina Aguilera: 'Moves Like Jagger'
2.
(2) Adele: 'Someone Like You'
3.
(3) Foster the People: 'Pumped Up Kicks'
4.
(4)
LMFAO: 'Party Rock Anthem'
5.
(5)
Gym Class Heroes ft. Adam Levine: 'Stereo Hearts'
6.
(6) Bad Meets Evil ft. Bruno Mars: 'Lighters'
7.
(8) Rihanna: 'Cheers (Drink To That)'
8.
(10)
Lady GaGa: 'You and I'
9.
(7) Cobra Starship ft. Sabi: 'You Make Me Feel'
10.
(25) LMFAO: 'Sexy and I Know It'
Watch Maroon 5 and Christina Aguilera's 'Moves Like Jagger' music video below: