1
Music News
Adele tops Billboard Hot 100 for fourth week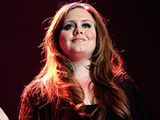 Adele
has remained at the top of the Billboard Hot 100 chart with 'Someone Like You'.
The track notches up a fourth week atop the tally after selling 207,000 downloads on its 15th week in the chart.
Elsewhere, Maroon 5 and Christina Aguilera remain at two with 'Moves Like Jagger', and Foster The People's 'Pumped Up Kicks' completes the top three.
Rihanna's 'We Found Love' advances from seven to six, and David Guetta and Usher's 'Without You' lifts from eight to seven.
Meanwhile, Wiz Khalifa, Snoop Dogg and Bruno Mars land at ten with 'Young, Wild & Free'. The entry marks Snoop's tenth top ten hit in his 18-year career.
Further down the chart, Jay-Z and Kanye West's 'Ni**as in Paris' shifts from 32 to 27, The Fray debut at 43 with 'Heartbeat' and Beyonce's 'Countdown' lands at 85.
The Top 10 singles in full (click where possible for our reviews):
1.
(1) Adele: 'Someone Like You'
2.
(2)
Maroon 5 ft. Christina Aguilera: 'Moves Like Jagger'
3.
(3) Foster The People: 'Pumped Up Kicks'
4.
(4) LMFAO: 'Sexy And I Know It'
5.
(5)
Gym Class Heroes ft. Adam Levine: 'Stereo Hearts'
6.
(7)
Rihanna ft. Calvin Harris: 'We Found Love'
7.
(8) David Guetta ft. Usher: 'Without You'
8.
(9)
Cobra Starship ft. Sabi: 'You Make Me Feel'
9.
(6)
LMFAO: 'Party Rock Anthem'
10.
(*) Wiz Khalifa ft. Snoop Dogg & Bruno Mars: 'Young, Wild & Free'
Watch Adele's 'Someone Like You' video below: