0
Music News
Mark Hoppus defends Blink-182 UK tour cancellation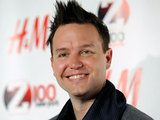 Mark Hoppus
has defended Blink-182's decision to cancel their UK tour this year, insisting that it was necessary to ensure that their new album was properly completed.
The band released their sixth studio album
Neighborhoods
in September, with Hoppus saying that axing the UK shows to concentrate on the record was "difficult" and "agonising" .
"It was a big, difficult, agonising decision that cost us a lot of money [and] a lot of good will," the bassist told
BBC News
. "Because people thought we were frivolously cancelling the tour, which we weren't at all, but it's hard to explain that to people.
"I can understand their annoyance and their frustration, but in the end, having that extra six weeks allowed us to finish the record and we wrote some of the best stuff in that six weeks."
Blink-182 drummer Travis Barker recently blamed too much touring as the
reason behind the band's temporary split
in 2005.
> Blink-182's Neighborhoods - album review
Watch the music video for Blink-182's single 'Up All Night' below: