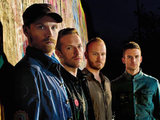 Coldplay
have revealed that they were hypnotised during the making of their latest album.
The band admitted that they decided to try hypnotism to explore new creative avenues when writing tracks for their new LP
Mylo Xyloto
.
The Sun
quotes bassist Guy Berryman as saying: "We have been in a band long enough where we are comfortable to explore new ideas.
"Maybe one in every ten will come to something and the rest will be rubbish, but you've got to give things a try. We're confident enough to do that now.
"[Producer] Brian [Eno] suggested we try playing together when we were hypnotised. One of his friends came down and we tried it out. Nothing came of it, but at least we tried it."
Coldplay are
on course to top the UK album chart
with
Mylo Xyloto
on Sunday after
the band became the most pre-ordered act of 2011 so far.
> Coldplay's Chris Martin: 'No more collaborations after Rihanna'
> Coldplay: 'We will never perform on X Factor'
Watch the music video for Coldplay's new single 'Paradise' below: