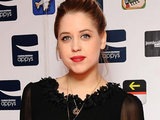 Peaches Geldof
has reportedly decided to pursue a career in the music industry.
The model is currently recording songs with unsigned US group The Grand Marquee, according to
The Sun
.
Her Boomtown Rats dad Bob Geldof has also been offering advice to the wannabe popstar, an insider claims.
"She's been taking advice from her dad," a source said.
"But she can't hold a note to save her life."
The Grand Marquee have apparently written a number of tracks for the 22-year-old, who recently
made headlines for allegedly being caught shoplifting
.
> Peaches Geldof: 'It upsets me that people think I'm an airhead socialite'