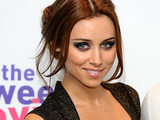 The Saturdays
' Una Healy has revealed that she is having specially-designed maternity costumes to wear on tour.
The singer announced her pregnancy earlier this year following confirmation the girl group would embark on their first ever arena tour in December.
When asked what special tour preparations she will have to make, Healy told
Digital Spy
: "We still have to sort a few things out, but all the stylists and choreographers are excited to work with me because I won't be able to do full-on routines and my costumes will have to be maternity ones!"
Speaking about her plans for 2012, Healy added: "I'm just planning for now, at the moment. I haven't even bought a single item of clothing for the baby.
"I'm not due until the end of March next year, so it's still a way off. There's lots going on at the moment with the tour and the album and it's only growing quite slowly, so I'm just taking each day as it comes."
She concluded: "I'll do what I can, but I definitely intend to become a working mother."
The Saturdays' new single
'My Heart Takes Over'
is available to download now, while their album
On Your Radar
will be released on November 21.
The girls will play their first headline arena date at Bournemouth's BIC on December 2.
> The Saturdays interview: 'New album will go down well on arena tour'
Watch the music video for The Saturdays' 'My Heart Takes Over' below: