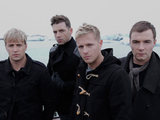 Westlife
's Kian Egan has complained that modern pop music is "too cool".
The singer claimed that the current music scene needs to be shaken up as it has started to sound generic.
Egan told
Music Today
: "I think it's got too cool. That's my honest opinion on music right now.
"There are some great songs out there, but it's almost becoming the cooler, the better. Great songs are getting lost because of that."
The 'Lighthouse' performer explained that past decades have seen the radio filled with a mix of "power ballads" and "great rock bands", but today's airwaves are graced with the same beat and genre.
"The variation of music that young people - and when I say young people I mean the 12 to 16-year-olds - listen to now is just the same thing with a different melody."
He added: "I just think it's getting a little samey samey and it needs a change-up again."
Westlife's
Greatest Hits
collection is available to buy physically and digitally now.
The compilation includes some of their most popular songs along with their latest single 'Lighthouse' and
new track 'Beautiful World'
.
> Westlife members have all thought about going solo, says Shane Filan
Watch Kian Egan talk about the modern music scene below: