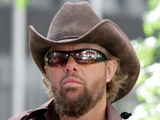 Toby Keith
has been named 'Artist Of The Decade' at the 2011 American Country Awards.
The singer thanked his fans, before saying that he was ready for a night of celebration in Las Vegas.
"Thank you very much," Keith said on accepting the award. "Hell, anybody can have a good decade. As long as the fans keep coming, you guys keep us out on the road.
"I'm ready to party in Vegas. Thank you guys."
A pre-recorded message from
Colbert Report
host Stephen Colbert then aired.
"The Artist of the Decade is the Pope of Nashville," Colbert told the crowd. "I'm proud to say he is also a personal friend of mine."
He continued: "This is the biggest award Toby Keith will receive tonight. I raise my red solo cup. Toby, to a great decade and a great career."
The singer
performed his single
'Red Solo Cup' for the very first time on broadcast television after receiving the accolade.
Voting for the award ended on Friday.
More from the American Country Awards 2011:> Carrie Underwood takes 'Artist Of The Year: Female' at 2011 ACAs> Blake Shelton takes home 'Music Video Of The Year' at ACAs 2011> Scotty McCreery wins 'Artist of the Year: New Artist' at 2011 ACAs> Trace Adkins: 'Kristin Chenoweth will keep me in line at ACAs 2011'> American Country Awards 2011: The winners
Watch the video for Toby Keith's new single 'Red Solo Cup' below: