1
Music News
LMFAO reclaim Aussie singles number one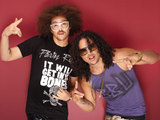 LMFAO
have returned to the top of the ARIA singles chart with 'Sexy And I Know It'.
The duo, who previously spent six consecutive weeks at number one with the track, have pushed Reece Mastin's 'Good Night' into second place, while Ed Sheeran's 'The A Team' completes the top three.
Elsewhere in the top ten, Taio Cruz advances from eight to seven with 'Hangover', and Jason Derulo's 'Breathing' jumps from 12 to nine.
Further down the chart, Snoop Dogg, Wiz Khalifa and Bruno Mars's 'Young, Wild & Free' leaps from 17 to 13, Christina Perri's 'A Thousand Years' vaults 22 to 15, and Pink's 'Bridge of Light' debuts at number 26.
Rihanna's 'You Da One' lifts 31 to 29, Timomatic's 'Set It Off' starts at 39, and Cher Lloyd's 'With Ur Love' lands at 48.
The Top 10 singles in full (click where possible for our reviews):
1.
(2) LMFAO: 'Sexy And I Know It'
2.
(1) Reece Mastin: 'Good Night'
3.
(3)
Ed Sheeran: 'The A Team'
4.
(4) Lloyd ft. Andre 3000 and Lil Wayne: 'Dedication To My Ex (Miss That)'
5.
(5)
Rihanna ft. Calvin Harris: 'We Found Love'
6.
(6) Guy Sebastian: 'Don't Worry Be Happy'
7.
(8) Taio Cruz: 'Hangover'
8.
(9)
Flo Rida: 'Good Feeling'
9.
(12) Jason Derulo: 'Breathing'
10.
(10)
Coldplay: 'Paradise'
Watch the music video for 'Sexy And I Know It' below: