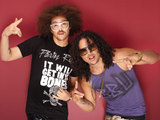 LMFAO
have continued their lead on the Billboard Hot 100 with 'Sexy and I Know It'.
The song extends its reign at number one for a second week, after clocking its 18th week on the tally.
Meanwhile, Rihanna's 'We Found Love' holds at two and Katy Perry's 'The One That Got Away' remains at three.
Adele's 'Set Fire to the Rain' falls from seven to eight, while Gym Class Heroes climb from 11 to ten with 'Stereo Hearts'.
Further down the chart, Kelly Clarkson leaps 32 to 20 with 'Mr Know It All', Jessie J advances 25 to 21 with 'Domino' and Nelly's 'The Champ' starts at number 64.
will.i.am, Mick Jagger and Jennifer Lopez re-enter at 90 with 'T.H.E.', and Ellie Goulding lands at 99 with 'Lights'.
The Top 10 singles in full (click where possible for our reviews):
1.
(1) LMFAO: 'Sexy And I Know It'
2.
(2)
Rihanna ft. Calvin Harris: 'We Found Love'
3.
(3)
Katy Perry: 'The One That Got Away'
4.
(4) Bruno Mars: 'It Will Rain'
5.
(6)
Flo Rida: 'Good Feeling'
6.
(9)
LMFAO ft, Lauren Bennett & GoonRock: 'Party Rock Anthem'
7.
(5) Jay-Z & Kanye West: 'Ni**as in Paris'
8.
(7)
Adele: 'Set Fire to the Rain'
9.
(8) Adele: 'Someone Like You'
10.
(11)
Gym Class Heroes ft. Adam Levine: 'Stereo Hearts'