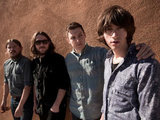 Arctic Monkeys
have released the video for upcoming single 'Black Treacle'.
Their latest cut from album
Suck It and See
will be available from Monday, January 23, making the LP the band's first to feature as many as four released singles.
After finding success with April's
'Don't Sit Down 'Cause I've Moved Your Chair'
, the Alex Turner-led group failed to chart in the Top 100 with August's 'The Hellcat Spangled Shalalala' and October's 'Suck It And See'.
Arctic Monkeys' video for 'Black Treacle' was filmed in Sheffield and Los Angeles, and directed by Focus Creeps.
On the video, Focus Creeps said: "It's a prequel where laws get broke, and a sequel where hearts get broke. On the one hand, the song kind of says, no matter how low things go, you can always dream, and on the other hand it's a video that kind of shows - kids, don't try this at home."
Last year, frontman Turner confessed that he has
"forgotten" how to write a hit record
.
Watch Arctic Monkeys' 'Black Treacle' video below: