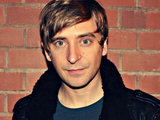 DJ Fresh
has released a behind-the-scenes look at his latest music video on
Digital Spy
.
The producer has teamed up with Rita Ora for his new single 'Hot Right Now' and recorded the accompanying video in Los Angeles.
Speaking from the set, Ora explained: "Flying out to LA was ridiculous. I've been here many times to record my album, but coming out here to do a video is great."
She added: "DJ Fresh - well obviously I'm a fan of his. We just go in [to the studio] and connected very well. The vibe was great and the track just came out awesome. I just hope everybody likes it as much as I do."
'Hot Right Now' will be released in the UK on February 12 and serves as the follow-up to
'Louder'
, which topped the chart last summer.
Watch Rita Ora behind the scenes of DJ Fresh's new music video 'Hot Right Now' below: