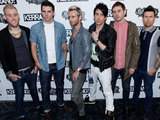 Lostprophets
have debuted a new track.
The band premiered 'Bring 'Em Down', which will serve as the first official single to be taken from their
upcoming album Weapons
.
After giving the song its first play on radio, the BBC's Zane Lowe asked frontman Ian Watkins if they had another single planned before the album's release. He replied: "Yeah, there is another one. It's not a power ballad - that's the fourth single down the line!"
Talking about possible festival performances this summer, he added: "I'm still waiting to headline Reading. I've been waiting since 2001!"
The singer also revealed that he played his mother
Weapons
and she responded with some unlikely comparisons.
Watkins joked: "I played the album to my mother and she said it reminds her of Will Smith and Jack Johnson."
Lostprophets will release their fifth studio album
Weapons
in the UK on April 2.
The album will be followed by the
group's upcoming headline tour of the UK and Ireland
, which starts in Dublin on April 15.
> Lostprophets unveil new track 'Better Off Dead' - listen, download
Listen to Lostprophets' new single 'Bring 'Em Down' below: