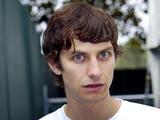 Gotye
has spent a second week at number one in Ireland with his single 'Somebody That I Used To Know'.
The singer managed to keep Jessie J in second place with 'Domino', while Flo Rida remains at three with 'Wild Ones'.
David Guetta is at four with 'Titanium', Rizzle Kicks at five with 'Mama Do The Hump' and Kelly Clarkson moves up to six with 'Stronger'.
Madonna's 'Give Me All Your Luvin'' debuts at number 11, will.i.am lands at 13 with 'T.H.E. (The Hardest Ever)' and Guetta is at 14 with 'Turn Me On'.
One Direction are at 24 with 'One Thing', Little Mix at 28 with 'Cannonball' and Jason Derulo is at 32 with new single 'Breathing'.
Lil Wayne's new collaboration with Bruno Mars, titled 'Mirror', sits at 37, while Pixie Lott trails at 38 with 'Kiss The Stars'.
This week's Irish Top 10 is as follows:
1. (1)
Gotye feat. Kimbra: 'Somebody That I Used To Know'
2. (2)
Jessie J: 'Domino'
3. (3) Flo Rida feat. Sia: 'Wild Ones'
4. (7) David Guetta feat. Sia: 'Titanium'
5. (5)
Rizzle Kicks: 'Mama Do The Hump'
6. (9)
Kelly Clarkson: 'Stronger'
7. (4)
Olly Murs: 'Dance With Me Tonight'
8. (12) Pitbull feat. Chris Brown: 'International Love'
9. (11)
Lana Del Rey: 'Video Games'
10. (27) Gym Class Heroes feat. Neon Hitch: 'Ass Back Home'
Watch the video for Gotye (featuring Kimbra)'s 'Somebody That I Used To Know' below: