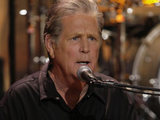 The
Beach Boys
have reunited for a special performance at the 54th Grammy Awards.
The group
took the stage
alongside Maroon 5 and Foster the People.
Maroon 5 opened the collaboration with 'Surfer Girl'. Foster the People then joined in with 'Wouldn't It Be Nice'. Finally, the Beach Boys themselves sung the classic hit 'Good Vibrations'.
Towards the end of the performance, all three groups took up the song.
The ceremony marks the first time in over 20 years that Brian Wilson, Mike Love, Al Jardine, Bruce Johnston and David Marks have performed together.
In December, the Beach Boys
confirmed details of a 50th anniversary tour
to take place later this year.
The group will also release a brand new studio album in the near future.
More from the 54th Grammy Awards:> Adele, Foo Fighters dominate 2012 Grammy Awards> Grammy Awards 2012: Watch Rihanna, Coldplay's 'Princess of China' duet> Grammy Awards 2012: Adele moved to tears by 'Album of the Year' win> Grammy Awards 2012: Katy Perry performs new single 'Part of Me'> Grammy Award winners Foo Fighters: 'Music doesn't have to sound perfect'
> Grammy Awards 2012: The major winners