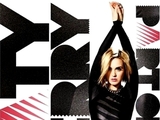 Katy Perry
has performed her new single 'Part of Me' at the 54th Grammy Awards.
The singer, who
reached a divorce settlement
with ex-husband Russell Brand earlier this month, kicked off her performance with 'E.T.' before the lights at the Staples Centre in Los Angeles blacked out and the song was cut off.
Perry then descended from the ceiling in a transparent cube, performing her new single 'Part of Me', which is to be released tomorrow (February 13) as part of
Teenage Dream: The Complete Confection
.
"You chewed me up and spit me out, like I was poison in your mouth," Perry sang.
Fire lit up the stage as the cube shattered around Perry and the singer stepped out in a gold bodysuit that resembled armour.
"This is the part of me that you're never ever gonna take away from me," she continued.
Perry married Brand
in October 2010
.
More from the 54th Grammy Awards:> Grammy Awards 2012: Adele moved to tears by 'Album of the Year' win> Grammy Awards 2012: The Band Perry, Blake Shelton join Glen Campbell> Adele makes live comeback at 2012 Grammy Awards with 'Rolling in the Deep'> Alicia Keys, Bonnie Raitt sing Etta James tribute at Grammy Awards
> Grammy Awards 2012: The major winners