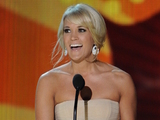 Carrie Underwood
and Tony Bennett have performed a duet at the 54th Grammy Awards.
Underwood and Bennett sung a version of the standard 'It Had to Be You', receiving a standing ovation from the crowd.
The two first recorded the duet for Bennett's
Duets II
.
Last week, Bennett
praised Underwood's beauty
, adding that he has loved collaborating with her.
"She's beautiful and she sings great and she's so popular. It's just a wonderful experience to be on the show."
Bennett
won a Grammy Award during the pre-telecast ceremony for his track 'Body and Soul'
, a
duet with the late Amy Winehouse
.
The Grammy Awards continue on CBS.
> Tony Bennett won't retire: 'I have a desire to get better with age'
> Grammy Awards 2012: The major winners