Flo Rida
has continued his reign over the ARIA singles chart with 'Wild Ones'.
The track - which features singer-songwriter Sia - leads the tally for a fifth week, fending off competition from Gym Class Heroes and Neon Hitch, who leap from 17 to two with 'Ass Back Home'.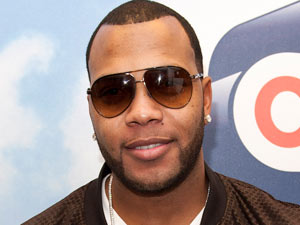 Elsewhere, Coldplay remain at five with 'Paradise', Whitney Houston re-enters at eight with 'I Will Always Love You', and Simple Plan's 'Summer Paradise' slips from eight to round out the top ten.
Further down the chart, Chris Brown's 'Turn Up The Music' debuts at 13, One Direction's 'One Thing' vaults from 32 to 17, and Katy Perry starts at 21 with 'Part Of Me'.
Houston's 'I Wanna Dance With Somebody' re-enters at 25, Jason Derulo lands at 27 with 'Fight For You' and Adele's 'Rolling in the Deep' rebounds to 29.
The Top 10 singles in full (click where possible for our reviews):
1.
(1)
Flo Rida ft. Sia: 'Wild Ones'
2.
(17)
Gym Class Heroes ft. Neon Hitch: 'Ass Back Home'
3.
(3) 360 ft. Gossling: 'Boys Like You'
4.
(2) Laurent Wery ft. Swiftkid: 'Hey Hey Hey'
5.
(5)
Coldplay: 'Paradise'
6.
(6) David Guetta ft. Nicki Minaj: 'Turn Me On'
7.
(4) The Black Keys: 'Lonely Boy'
8.
(R/E) Whitney Houston: 'I Will Always Love You'
9.
(7) Hilltop Hoods ft. Sia: 'I Love It'
10.
(8) Simple Plan: 'Summer Paradise'
Watch the official 'Wild Ones' music video below: