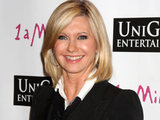 Olivia Newton-John
has spoke of her admiration for Daryl Braithwaite.
The Australian singer, who is being joined on stage by Sherbet singer Braithwaite at her concert in Melbourne tonight, said that she wanted him to be her special guest on her tour because she appreciates his talent.
Newton-John told the
Herald Sun
: "I love Darryl. He's a great singer. I went to see him sing in a club when I was last in Melbourne."
Last year, Braithwaite
revealed that he briefly dated Newton-John
when they were at school together, saying: "We were boyfriend and girlfriend for about a week or two. We held hands; that's about it."
She said of his claims: "Darryl is someone who I went to school with. We were 12 years old, I was in the choir, he was in the choir, we used to pass notes to one another."
Newton-John said that she will "cover a pretty wide spectrum" during her concert, saying: "I have country music, pop music, movie music... healing music... I've got quite a few things to choose from."
The
Summer Night with Olivia Newton-John
orchestral concert takes place at the Regent Theatre tonight and tomorrow (February 27 and 28).
> Olivia Newton-John is lovely, awesome, amazing, says Kris Marshall> Olivia Newton-John: 'Life is full of surprises'
Watch Olivia Newton-John perform 'A Little More Love' below: