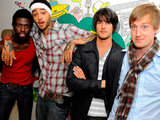 Gym Class Heroes
have topped the ARIA singles chart with 'Ass Back Home'.
The track - which features singer Neon Hitch - marks their first Australian number one, while Flo Rida and Sia's 'Wild Ones' falls one to two and Qwote and Pitbull's 'Throw Your Hands Up' completes the top three.
Meanwhile, fun. and Janelle Monae's 'We Are Young' leaps from 23 to six, One Direction's 'One Thing' vaults 20 to nine and Nicki Minaj advances 14 to ten with 'Starships'.
Further down the chart, Skrillex climb 22 to 12 with 'Bangarang', Train's 'Drive By' leaps 29 to 20, and Labrinth shifts from 41 to 29 with 'Earthquake'.
Usher's 'Climax' debuts at 37, Taio Cruz starts at 38 with 'Troublemaker', and Far*East Movement and Justin Bieber's 'Live My Life' debuts at 42.
The Top 10 singles in full (click where possible for our reviews):
1.
(2)
Gym Class Heroes ft. Neon Hitch: 'Ass Back Home'
2.
(1)
Flo Rida ft. Sia: 'Wild Ones'
3.
(4) Qwote ft. Pitbull: 'Throw Your Hands Up'
4.
(3) 360 ft. Gossling: 'Boys Like You'
5.
(7)
Jason Derulo: 'Fight For You'
6.
(23) fun. ft. Janelle Monae: 'We Are Young'
7.
(6) Chris Brown: 'Turn Up The Music'
8.
(5) Katy Perry: 'Part Of Me'
9.
(20)
One Direction: 'One Thing'
10.
(14)
Nicki Minaj: 'Starships'
Watch the 'Ass Back Home' music video below: