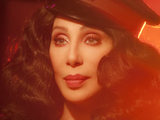 Cher
has told fans that her upcoming tour will be her last.
The singer made the admission while defending criticism from fans who are now questioning the validity of her previous 'Farewell Tour', which ran between 2002 and 2005.
Mocking the star's
recent revelation that she will embark on another tour in September
, a 'fan' tweeted: "true farewell tour will be when you're on your deathbed?"
Cher
responded
: "THIS 1 WILL B "LAST ONE"! I WANT 2 DO IT "WELL" JUST 1 MORE TIME! NITE (sic)"
The new tour will be in support of the performer's upcoming 26th studio album, which she started recording last year.
The record will
feature a duet with Lady GaGa called 'The Greatest Thing'
, which was produced by RedOne.
> Lady GaGa, Cher duet 'The Greatest Thing' was a party, says RedOne
Watch the music video for Cher's 'Strong Enough' below: