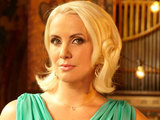 Claire Richards
has revealed that she is proud to be a size 16.
The 34-year-old Steps singer, who was recently accused of being too large to keep up with her bandmates during dance routines for
their comeback
shows, said that she refuses to be "brainwashed" again into thinking that skinny is healthy.
Richards told
The Sun
: "I have spent so many years starving myself to be skinny. You can damage yourself by doing that - and I probably have in some ways. I think it's really sad that there is so much emphasis on a woman's size, certainly in the music industry.
"You are brainwashed into thinking you can't wear nice clothes because you are a little bigger and you have to wear baggy stuff to hide whatever's going on underneath - and it's rubbish. I'm a size 14 to 16 and I have a waist, I have boobs and I have a bum.
"I can accentuate those assets and still wear a nice dress and feel good about myself. It is important to remember that a size 16 is the average size of a woman in the UK. It is odd how these women are made to feel like they are not the norm but they are."
Richards said that rumours of her struggling with dance moves are "complete rubbish", adding: "People have just got to be nasty sometimes. It is tough [but] I am no less fit than anybody else.
"The obsession with my size gets on my nerves a lot less now than it used to. I am happy with the way I am. I don't want to be yo-yoing anymore. This is me - and if you don't like it, tough."
> Claire Richards: 'Steps comeback distracts people from my weight'
> Steps star Claire Richards reveals eating disorder battle
Watch Steps discuss their reunion with
Digital Spy
below: