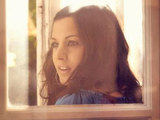 Rumer
has announced details for her new album.
Boys Don't Cry
marks the second studio album from the singer-songwriter. It will be released on May 28.
The LP is a collection of lesser-known songs from the 1970s, including forgotten tracks by Leon Russell, Issac Hayes and Bob Marley.
Discussing the project, Rumer said: "This is about passion, and paying respect to other people's work. I went on a journey and this music tells that story."
The record, which also features covers of Todd Rundgren, Townes Van Zandt, Ronnie Lane and Tim Hardin, is described as "a dark, diverse set of songs, many of which have personal echoes for Rumer".
Boys Don't Cry
follows 2010's
Seasons of My Soul
, which peaked at number three on the chart and has sold one million copies to date.
The tracklist, including the original recording artists, is as follows:
>Rumer: 'Album success is mental'>Rumer: 'Cracking US will be scary'1.
P.F. Sloan (Jimmy Webb)
2.
Be Nice To Me (Todd Rundgren)
3.
It Could Be The First Day (Richie Havens)
4.
Travelin' Boy (Paul Williams)
5.
A Man Needs A Maid (Neil Young)
6.
Soulsville (Issaac Hayes)
7.
The Same Old Tears On A New Background (Stephen Bishop)
8.
Soul Rebel (Bob Marley)
9.
Flyin' Shoes (Townes Van Zandt)
10.
Home Thoughts From Abroad (Clifford T Ward)
11.
We Will (Gilbert O Sullivan)
12.
My Cricket (Leon Russell)
Special Edition
:
13.
Sara Smile (Hall and Oates)
14.
Just For A Moment (Ronnie Lane)
15.
Andre Johray (Tim Hardin)
16.
Brave Awakening (Terry Reid)
Watch Rumer's 'Slow' music video below: