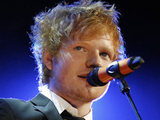 Ed Sheeran
has revealed that he became close to giving up on music to concentrate on acting.
The 'A Team' singer-songwriter almost landed a place at the prestigious National Youth Music Theatre, and he explained that if he got through, he would have changed his career path.
"This email came though saying, 'If you can sing, play the guitar and act, then audition for this'. I thought, 'This sounds like me'," he told
Live
.
"I got down to the final three with Pixie Lott. I said to myself that if I get this, I'll give up music and concentrate on acting. Luckily, I realised it wasn't for me and I didn't get it anyway."
Sheeran also recalled how he used to perform to very small crowds with Jessie J before they both made it big.
"We were remembering doing shows two years ago where there'd be 30 people in the audience. Two years on and she's selling out arenas [and] I'm doing my shows.
"We've all come from the same place, so it's nice that we're all supporting each other now that we're up there," he added.
The double-Brit Award winner recently revealed that
his next album will be more guitar-based in its sound
.
> Ed Sheeran: 'Ginger hair has helped success'
Watch the video for Ed Sheeran's 'Drunk' below: