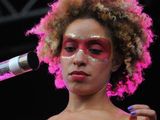 Martina Topley-Bird
will perform a live set at the Houses of Parliament tomorrow (April 17).
The singer-songwriter's appearance will mark the passing of the Live Music Act, which aims to help small venues put on music events in the UK.
The act, which was passed last month, will allow venues with a capacity of under 200 to stage gigs without the need to apply for a license.
The event is hosted by industry body UK Music, and will also see performances by Daytona Lights and MP4, a band consisting of politicians.
Suede's Bernard Butler and Robert Wyatt are set to be in attendance to celebrate the passing of the bill, reports
NME
.
Topley-Bird released her fourth studio album
Some Place Simple
in 2010.
She also collaborated with Massive Attack
on their 2010 LP Heligoland
.
Watch the video for Martina Topley-Bird's 'Carnies' below: